THE
WOODEN
ATHLETIC FUND
IS DEDICATED TO HONORING THE LASTING EDUCATIONAL AND ATHLETIC LEGACY OF NELL AND JOHN WOODEN. TOGETHER, MEMBERS OF THE WOODEN ATHLETIC FUND PROVIDE INVALUABLE SUPPORT FOR ALL UCLA STUDENT-ATHLETES IN THE CLASSROOM, IN COMPETITION AND IN THE COMMUNITY.
WAF MEMBERSHIP TIMELINE
THANK YOU FOR YOUR GENEROUS SUPPORT!
As student-athlete scholarship costs and the overall cost of providing the best possible UCLA student-athlete experience continue to rise, UCLA Athletics would not be a leader in the NCAA without the support of each and every Wooden Athletic Fund member. Here is how your support of the Wooden Athletic Fund positively impacts nearly 700 student-athletes at UCLA.
IN-STATE SCHOLARSHIP
STUDENT-ATHLETE ANNUAL EXPENSES
WHAT IS THE IMPACT OF
WOODEN ATHLETIC FUND SUPPORT?
The revenue from Wooden Athletic Fund contributions makes a critical impact on the following areas:
TOTAL SCHOLARSHIP COST FOR UCLA ATHLETICS
UCLA Athletics pays UCLA for 100% of in-state and out-of-state scholarship costs, including tuition, room, board, and fees for each scholarship student-athlete who competes for UCLA.
BY THE NUMBERS
92%
UCLA student-athlete graduation rate
$16.5M
Estimated 2020-21 scholarship cost for UCLA Athletics
#1
UCLA ranking among U.S. Public Institutions by US News & World Report
15%
Amount of UCLA Athletics' annual revenue that comes from donations
(Wooden Athletic Fund, individual sports, endowment income)
285.5
Number of scholarships provided to UCLA student-athletes

The Wooden Athletic Fund has set its sights on a new milestone in support of UCLA's student-athletes: 10,000 WAF members. As we approach 10,000 members, special incentives will be offered to current WAF members who refer new members to join as well as to new donors themselves.
BECOME A CHAMPION
1
Increase your Wooden Athletic Fund Gift by at least one level
2
Refer a Friend who joins The Wooden Athletic Fund for the first time
3
Join the Wooden Athletic Fund for the first time
As student-athlete scholarship costs and the overall operating expenses required to sustain UCLA Athletics' competitive edge continue to rise, the support of each and every Wooden Athletic Fund member is more important than ever.
BECOME A CHAMPION & 110% CAMPAIGNS:
With revenue having been negatively impacted at a significant level due to COVID-19, we ask you to consider the option to "Become a Champion" and increase your support to the next membership level or to give 110% of your previous contribution to help provide UCLA's student-athletes with the resources they need to continue to succeed in the classroom, in competition and in the community.
FOR THE ALLOCATION OF BENEFITS, INCLUDING TICKETS (HOME, AWAY AND POSTSEASON), PARKING, EXPERIENCES AND MORE, WOODEN ATHLETIC FUND DONORS ARE PRIORITIZED ACCORDING TO THE FOLLOWING CRITERIA:
THE CHART BELOW OUTLINES WOODEN ATHLETIC FUND DONOR PRIORITY RANKINGS AS OF

APRIL 23, 2021
| Priority Group | Wooden Athletic Fund Annual Membership Level | Average Lifetime Giving to UCLA Athletics | Number of Donors | Priority Rank |
| --- | --- | --- | --- | --- |
| 1 | John R. Wooden Benefactor ($50,000+) | $2,603,107 | 99 | 1-99 |
| 2 | Director's Circle ($25,000+) | $460,630 | 172 | 100-271 |
| 3 | Bruin Legends ($12,500+) | $307,373 | 100 | 272–371 |
| 4 | Coaches Roundtable ($5,500+) | $102,013 | 428 | 372-800 |
| 5 | Bruin All-American ($3,500+) | $73,019 | 285 | 801-1,086 |
| 6 | Bruin All-Conference ($1,700+) | $26,342 | 597 | 1,087-1,683 |
| 7 | Bruin Athletic Club ($850+) | $12,103 | 971 | 1,684-2,654 |
| 8 | Bruin Bench ($350+) | $4,735 | 1,421 | 2,655-4,075 |
| 9 | Bruin Varsity Club ($100-$349 for Former Student-Athletes) | $4,067 | 455 | 4,076-4,530 |
| 10 | Bruin Booster ($100+) | $2,818 | 3,395 | 4,531–7,925 |
| 11 | Season Ticket Holder | N/A | 1,237+ | 4,531+ |
Please note that all WAF donor benefits are subject to availability and are non-transferrable.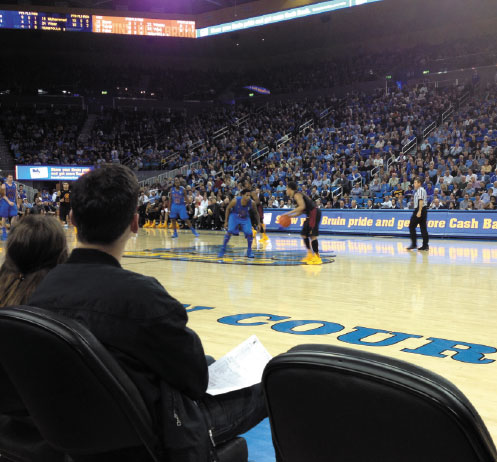 COURTSIDE SEATS
Be a part of the action with the closest and most personal view of the game in Pauley Pavilion.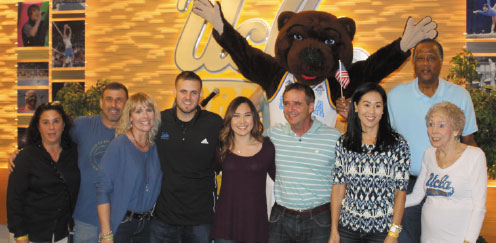 THE PAVILION CLUB AT PAULEY PAVILION
This exclusive club offers premium catered meals and snacks along with a full bar and multiple high definition TVs before, during and after all Men's Basketball games at Pauley Pavilion.
MEMBERSHIP AT THE DIRECTOR'S CIRCLE ($25,000+) OR JOHN R. WOODEN BENEFACTOR ($50,000+) LEVELS OF THE WOODEN ATHLETIC FUND ALLOWS YOU TO ENJOY THE FOLLOWING PREMIUM EXPERIENCES WITH UCLA ATHLETICS:
VALET PARKING
Arrive in style at Pauley Pavilion with priority entry and exit to and from our exclusive valet parking in Lot 7, the closest lot to Pauley Pavilion.
DINNER WITH ATHLETIC DIRECTOR AND HEAD COACHES
Visit with UCLA Athletic Director Martin Jarmond and our outstanding group of head coaches at our private Director's Dinner each spring.
TUITION OF A STUDENT-ATHLETE
Gifts and membership at the Director's Circle ($25,000+) or John R. Wooden Benefactor (50,000+) levels provide the support needed to fund the tuition for a student-athlete for an academic year.
ADDITIONAL WAYS TO SUPPORT UCLA ATHLETICS
WOODEN ATHLETIC FUND
The Wooden Athletic Fund is the backbone of UCLA's financial commitment to support the educational and athletic excellence of each student-athlete who competes for the Bruins. In recognition of their financial support, Wooden Athletic Fund members are offered a wide variety of exclusive benefits including access to tickets, parking and hospitality.
Gifts of $25,000+ annually to the Wooden Athletic Fund, an Individual Sport, or a Capital Campaign qualify for Premium Benefits included in Director's Circle membership.