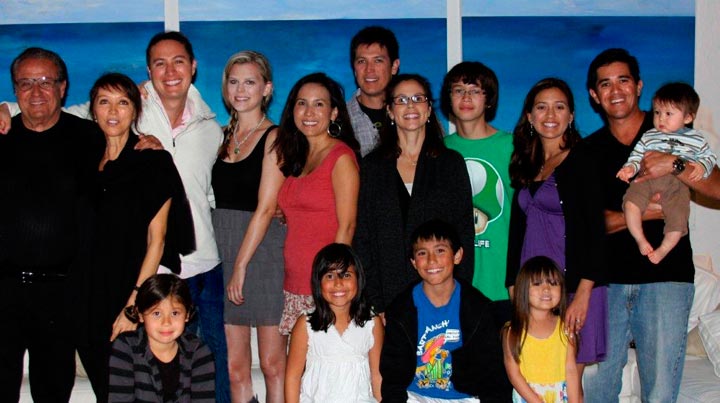 They are intertwined in many worlds ranging from political issues, campaigns and public policy to major world crisis management. She is heavily involved with working with dog rescue shelters; he spends a great deal of time studying blood lines and veterinary medicine in order to purchase racehorses. They travel all over the world, and spend time with family. However busy these ventures make them, Chuck and Annie Winner still manage to have time to be actively involved with UCLA.
Listening to Chuck and hearing about his life is like getting a history lesson in politics, candidates, elected officials, and renowned world events. He was at the Ambassador Hotel the night that Bobby Kennedy was assassinated. He worked with President John F. Kennedy, (Former Governor of California) Pat Brown, Bobby Kennedy, Walter O'Malley and Governor Jerry Brown, among others. In brief, he's been in the middle of historical events in one way or another since 1958.
"Pat Brown's [gubernatorial] campaign in 1958 was the first campaign I worked on," said Chuck. "But I basically managed and directed political campaigns around the country for a long time. I stopped [working with] candidates in 1980."
Chuck's interest in and affection for UCLA started back even further than that. In the late 1940's when he was quite young, he was bedridden with asthma. This forced him to spend time in his room listening to the radio, and he started listening to both UCLA and USC basketball games.
"For whatever reason I selected UCLA and they just became my team," said Chuck. "I was six or seven when I started going to games with my grandfather. That was when UCLA was playing at places like Venice High School and the old Men's Gym and the Pan Pacific Auditorium, then moved to the Sports Arena. It's going to be like 'old home week' for me when we go back there his year."
Chuck also listened to USC and UCLA football games on the radio.
"Red Sanders was the coach," Chuck reminisced. "The guys I remember are (Paul) Cameron and (Kermit) Alexander, then later (Gary) Beban and (Terry) Donahue—he was a good player and a terrific coach."
Chuck attended UCLA but only briefly. He did, however, have a pretty good reason for leaving.
"I went [to UCLA] but dropped out to go to work for President Kennedy," said Chuck. "I did advance [work] over 14 western states for the political team. When you're on the advance team, you plan the events which, in those days, were things like tickertape parades and whistle stop tours. So you basically help plan the events and prepare the candidate or President for the events by arranging for motorcades and doing typical things you do in a political campaign."
Chuck now has two companies of his own. Winner & Mandabach Campaigns is a national consulting firm that specializes solely in ballot measure campaigns. It is the most successful company of its kind in the country and has consulted and successfully managed more than 150 statewide and local initiative referendum and bond measure campaigns. Winner & Associates, the second company, essentially handles public policy, advertising and public relations with projects all over the world, specializing in strategic planning and crisis communication. Chuck's three sons run this business while he continues to operate as the Founder of the company.
Annie, a native of France, was living in a small city outside of Paris when she took a position that demanded she speak English fluently. Realizing that she needed to learn English fast, she came to Los Angeles and that's where she and Chuck met. They married and have one son, Justyn, who is a rabid UCLA fan. Their other two sons and daughter, Zach, Ethan and Nicole, from Chuck's previous marriage, are also UCLA fans, with one small snag.
"All of the kids became UCLA fans because we all went to all the games when they were growing up," said Chuck. "But Zachary went to USC as an undergrad. He's still a UCLA fan except when we play USC, he roots for [USC.] I guess you can say he has dual allegiance."
Annie had friends who attended UCLA but did not get involved with going to games until she met Chuck. They first became actively involved with the university when Chuck's firm did advertising campaign for UCLA. The university was facing budget cutbacks so they went to Chuck to put together a campaign to increase funding, UCLA's very successful "Investment in the Future" campaign.
"I'd been a fan of UCLA but I was never a contributor and I had a little bit more money by then," said Chuck. "Alan Charles, the Vice Chancellor at the time, first got me involved. Then I met (former Director of Development) Ken McGuire and he got Annie and me involved with Athletics."
Convinced that establishing a scholarship for Athletics would be in the best interests of UCLA and the Athletics Department, Chuck and Annie established two endowments. In 1998 they established "The Chuck and Annie Winner Men's Basketball Grant-in-Aid" and then in 2002, they endowed another scholarship, this time for the football program; "The Chuck and Annie Winner Football Grant-in-Aid."
"Annie and I obviously want the teams to win, but we're actually more concerned that [the student-athletes] do well in school. I think a very important part of UCLA is helping these kids become good adults. So even if they don't excel on the field or the court, as long as they do well in the classroom and as human beings that's more important [to us.]"
Chuck and Annie have continued in their generosity to UCLA Athletics. They became Coaches Roundtable members in 1996, and in 2002 became charter members of the new courtside seating program in Pauley Pavilion. They hosted a basketball dinner at their home, and the following year gave a generous gift to the Champions Fund, a purely philanthropic fund that supports the department. They recently made a sizable donation to the Pauley Pavilion "Campaign of Champions" renovation project, of which Chuck is a member on the Campaign Committee, and are quite excited about the new Pauley plans.
"We are very excited and looking forward to when Pauley re-opens," Chuck said. "I can't wait, and I think it's great for recruiting. I don't know if it's coincidence or not, but I think we may have already seen results from [the renovation] from some of the new recruits we've gotten."
One of the things that Chuck treasures most was the time he got to spend with Coach Wooden. The two of them talked about the teams that Chuck watched play when he was a child.
"Coach was so proud of his [players] and he knew everything about them and everything about their kids and everything about their grandkids," said Chuck. "I know he was a great mentor who taught us all the right things—that you can help these kids become good citizens. He was the best at it and was so proud of them. And they in turn loved visiting him."
We will never know why a young boy decided to make UCLA "his" team. What we do know is that we are grateful for whatever it was that allowed this young boy to grow up to love UCLA so much so that Chuck and Annie Winner became such an integral part of UCLA Athletics.