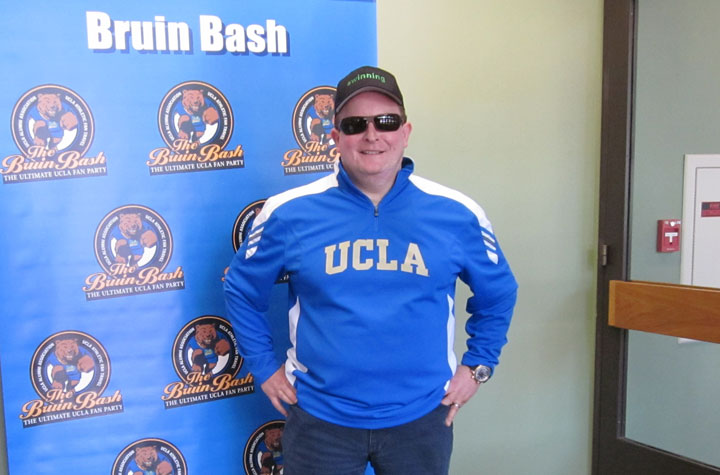 Many high school students choose a college by how good their athletics program is. Normally, however, those are high school students who plan on playing a sport and becoming student-athletes. So what would you say about someone who chooses a school by how good their athletics program is and who has no plans to play a sport?
What you would say about that person is that they are, among other things, an avid and passionate college sports fan. And this is exactly how Mac Hofeditz chose UCLA.
Robert M. Hofeditz, who has always gone by "Mac," doesn't deny his passion for college athletics. Brought up in a home where his father is a University of Washington Hall of Fame baseball player, Mac grew up with sports all around him. He did, however, take a different path than the rest of his family.
"I am the only person in my family to not go to the University of Washington," explained Mac. "I'm considered a heretic in my family. I grew up going to Husky football games and Husky basketball games and Husky baseball games—it was basically our lives."
So how did it come to pass that a young man veered away from the team he was practically born into, and ended up a fan at a school that was not only over 1,000 miles away, but in the same athletics conference?
"When I was a kid, [the Huskies] played UCLA in basketball in January and there was a huge snowstorm. John Wooden was still the coach then and my dad said, 'we're playing UCLA, we're going to this game.' I was five or six years old," said Mac. "We walked to the stadium from our house and literally walked through a blizzard to get there. It was a great game; I think it went into overtime, if not double overtime, and UCLA ended up winning. I remember thinking to myself what an awesome athletic powerhouse UCLA was."
So that was Mac's introduction to UCLA athletics. He rooted for them but didn't think much about it until he started to apply to colleges in the mid-eighties. After a visit to Los Angeles, even his father was convinced that UCLA was the place for his son.
"I was accepted at UCLA and went to visit in December, 1986 with my dad," Mac reminisced. "It was 81 degrees and I got to see basketball practice and my dad and I checked out the campus all day and even he was blown away. He turned to me and said 'I won't blame you if you go to UCLA.' So even though he's still a Husky, he didn't blame me for choosing UCLA."
Since athletics had always been a big part of his life, once at UCLA, Mac went to every UCLA sporting event he could go to; lived with and had friends who were on various teams, and had a real connection to the Athletics Department.
"Athletics was always a really big part of my UCLA experience," said Mac. "That's why it was part of the criteria for applying to colleges. But it was someone from outside [the Athletics Department] who was first responsible for drawing me back in."
After graduation from UCLA, Mac moved up to San Francisco, where he met and married his wife Janelle. He has been in investment banking and now works at Probitas Partners, working with private equity firms to raise capital for them. He was living there when he received a call from a woman in Los Angeles who he didn't know.
"It's funny because I would never have gotten involved in giving to the Athletics Department except for a cold call I got. It was from (Development Director for the UCLA Fund) Elisa Califana. She made me realize that I should be giving back to [UCLA] and then introduced me to (former Associate Athletic Director) Shawn Heilbron. Shawn made me remember how much I loved college athletics. I think it's a testament to UCLA Development who made the connection and provided the opportunity for me to get more involved. "
From then on, Mac's involvement with UCLA has been widespread. In addition to giving to Athletics, he has made gifts to the UCLA Fund, Political Science Department and the Anderson School. One of his larger gifts came as a result of another person he met who is now with the Athletics Department.
"Shawn introduced me to (former Bruin football and NFL alum and now Director of Scholarship Development) James Washington and he and I became friends after I hosted a pre-football game party up in [the Bay Area] in 2009. He's enthusiastic and passionate, and believes in giving back," Mac iterated. "He and I resonated with that; we came from different angles, but we both are fortunate in having the opportunity to do that. Like him, when I came to UCLA I really had nothing, and I realized that you have to work hard to make things happen. I'm very appreciative of that experience and I love UCLA Athletics so giving back allows me to do something for both."
Besides giving back to UCLA by hosting parties and receptions in the Bay Area (he is hosting another before the UCLA-Stanford football game this season), Mac also donated directly to several other projects. The first was a gift to the UCLA Football "Then Now Forever" Fund, an annual giving program that provides additional financial resources for the football program. A second gift went to the Pauley Pavilion "Campaign of Champions" renovation project. In fact, after several months, Mac and his wife Janelle decided to increase their gift to the project.
"My whole view is that Pauley needed to be updated," said Mac. "I think Pauley's going to be great; I think it's going to be a lot better than anybody expects. It's going to be new, and it's going to be cool, and they'll have all new locker rooms, plus the seat configuration is going to be better. I think anytime people see a new place and it's clean and it's bright and it's shiny, and it'll have the new (LED) ribbon around it, it will create excitement. I think it's going to get a good reception."
Mac donates to the program and likes to take advantage of what the Athletics program has to offer. He, Janelle, and their two children (ages five and three) will extend their UCLA experience when they go to this year's Men's Basketball Maui Invitational Tournament in Lahaina.
"We're going to go to Maui for the week and celebrate Thanksgiving with the family. I've never been to this tournament but I've heard it's just awesome to watch great basketball in such a small venue," said Mac. "We're really looking forward to it. My wife is a Georgetown grad and grew up a KU fan in Kansas and both of those teams will be playing. So when we saw the schedule, we just said we had to go!"
So with all of his love and passion for UCLA, and for his family, Mac still hasn't brought his children to any games yet.
"I think when Pauley re-opens my son will be old enough and able to come down for games with me," Mac says. "He always says he wants to go with me, but I think next year he'll be ready."
Perhaps the memory of walking through a blizzard with his dad when he was a mere five or six years old is making him wait for his son to turn six before taking him to a game. But that doesn't change the fact that Mac is still a dyed-in-the-wool, true blue Bruin fan.
"My parents still live in Seattle. My dad calls me every time UCLA loses a game and still tells me I could have been a Husky fan," Mac said. "But I wouldn't do that over even if I could."