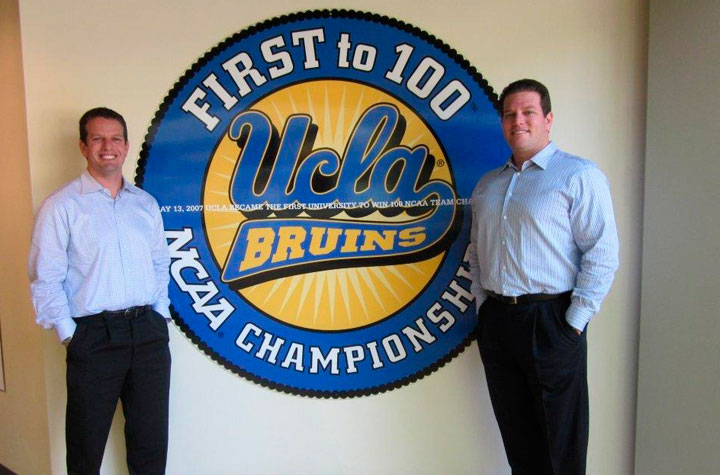 These two young men have so much UCLA blood pumping through their veins it would clog a lesser man's arteries to the point of implosion. Everything they have accomplished so far in their lives they feel they owe to UCLA, so it is only natural that Spencer and Adam Miller feel they should give back to the school that gave them so much.
The Millers have had UCLA in their lives for almost their entire existences; in Adam's case he has been in the UCLA 'fold' since he was two years old.
"When I was eight years old, our family started going to Bruin Woods in Lake Arrowhead," explains Spencer. "Adam was two years old when we started, and we've been going every year now for 26 years. Now my own kids come every year with us."
Their mother graduated from UCLA, but their father, as difficult as it is for them to admit, actually graduated from USC. But he received his JD degree from UCLA Law School.
"Ever since we started going to Bruin Woods, he became a big UCLA fan," Spencer said. "The family loves it and our grandparents, aunts and uncles go too. Our dad doesn't even root for USC anymore."
That seems to be just fine to his children, three of whom attended UCLA. Spencer graduated with a BS in Neuroscience in 1999, and Adam graduated with a BA in Political Science in 2004. Their sister Rebecca also graduated from UCLA in 2002.
"UCLA was the only school I applied to," explains Adam. "I was two when we started going to Bruin Woods, so I've been doing the 8-clap since then. I'm completely brainwashed."
They both have fond memories of UCLA going back to junior high and high school.
"When I was in high school my dad got football tickets for me and three of my friends to go see UCLA play USC," said Spencer. "It was the game with John Barnes as quarterback when we came from behind to win. It's one of my fondest memories!"
"Our uncle had season tickets and took me to the final home game of the 1995 basketball season when we played Oregon," Adam said. "We watched the senior farewell before the game… imagine that being my first basketball game! I was in junior high and became a huge fan."
Both Spencer and Adam continue to travel to at least one away football game each year and attend as many post-season and as many home games as possible for football and men's basketball. Besides all of their fond memories before and after attending UCLA, it was their experiences while there—both in the classroom and outside—that make them feel indebted to their alma mater.
Spencer uses his degree in Neuroscience for the work he does at Amgen, Inc., a Fortune 500 company that serves millions of patients by bringing medicines from the lab to the patient. He started out his career in sales management and has been in marketing at Amgen for the last five years.
"My degree from UCLA is what got me my job out of college," says Spencer. "Having a BS from UCLA speaks quite loudly at my company and other companies. But I'd say 90% of my success now is due to everything I learned outside of the classroom at UCLA."
Adam has his own practice at the law firm of Miller, Miller & Menthe. He practices mostly business law and litigation, and some contract law and negotiations. The practice that he and his dad started grew to the point where they brought in a new partner, who Adam, naturally, knew from UCLA. He also credits his having been involved in outside activities that gave him a leg up in the real world.
"Being in a [fraternity] forced me to learn social skills to navigate through dealing with people with different personalities; I learned to be a peacemaker of sorts," explained Adam. "I honestly believe I wouldn't be doing as well as I am now—going through those experiences then gave me a greater social awareness for when I deal with clients and other attorneys. The degree I got from UCLA was great and got me in the door. But the actual social skills I learned, whether it was through sports, or my frat, or elsewhere taught me how to get something done using the skill of compromise."
"I feel the same as Adam. Being able to read people and understand what is and isn't important, dealing with people who don't agree on anything, and being able to negotiate were all things I learned while in school," said Spencer. "It was all these things I learned outside the classroom that made me successful and have made me so appreciative."
There are stories that reveal exactly what priority UCLA has to the Millers. One is where Spencer, who had been working on the east coast for several years, accepted a job at Amgen, Inc. in Thousand Oaks.
"The first one I called was Adam because he was also on the east coast," said Spencer, "then I called my wife Erika and told her. But then, and I thought of this the minute I knew I was coming home, I called the UCLA Development Office and asked how I could donate in order to get football and basketball [season] seats. THEN I called my family."
With Adam, it had just as much to do being a UCLA fan as it did with rooting against USC.
"When I was applying to law schools I got a letter from USC Law," explains Adam. "They said my application would be free, they'd let me know [about acceptance] within three weeks, I'd be automatically in the running for a full scholarship, and I'd get a guaranteed job each summer. It took me about five seconds before I threw it in the trash. Straight in the trash."
Besides having an effect on who they root for, and what they've learned, UCLA also has had an effect on their personal lives. Spencer actually proposed to Erika on UCLA's campus.
"She had no clue what was coming, and we were walking in the Sculpture Garden on north campus," explained Spencer. "Adam and [their brother] Corey had laid out roses by each statue. So when I finally proposed and she said yes, Adam popped out from behind the bushes and took pictures."
"I was shocked I didn't get arrested for hiding in the bushes in the Sculpture Garden for 30 minutes," Adam responded.
For everything that UCLA has given them, the Miller brothers have already given back abundantly. They have contributed to the Athletics Department on a progressively upward trajectory, first joining Coaches Roundtable, then upgrading to Bruin Legends, and then to Director's Circle, the department's premier support group. They have also made a generous gift to the Pauley Pavilion "Campaign of Champions" renovation project and are excited for the first season in Pauley. In fact, Adam had season tickets for two years while he was still living in New York.
"Technically I had season tickets about two years before I even moved back here," said Adam."I knew Pauley was being renovated and this was my opportunity to contribute, so I thought I might as well start donating. We're thrilled with the new Pauley [plans.]"
Adam is convinced that just a little bit of schooling on donating for undergraduates would make a positive impact on giving patterns.
"I think things like having the Den [UCLA's official student fan group] is going to create more fervent and dedicated fans in younger generations," Adam explained. "When you bring in the young alumni and they donate even $100 and see the benefits and that they're treated like a donor, they're going to donate more. And, it'll pay off in the long run."
Spencer feels that his dealings with the Athletics Department make his experiences now even more positive.
"With the people I've dealt with [in the Athletics Development Office] it makes such a difference to us because we have a face and we have a contact," said Spencer. "It's those kinds of things that make us want to donate more."