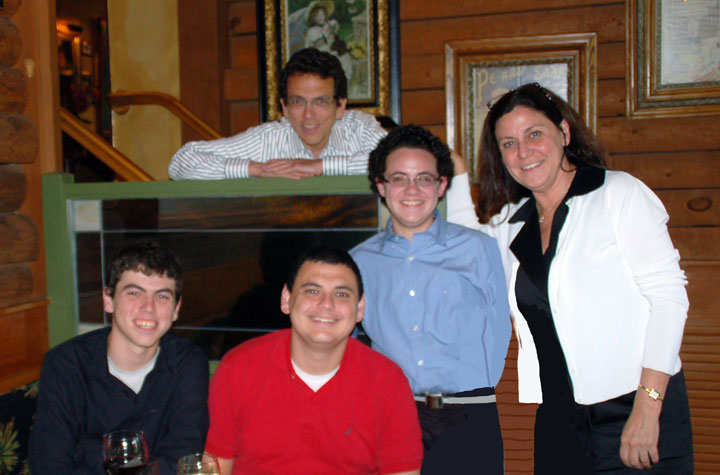 They have three wonderful children: Christopher, 25, Kelly, 23, and Connor, 17. They met at the law firm of Paul, Hastings, Janofsky & Walker in the early 1980's and share many memories and have many things in common.
"I thought he was annoying," said Pam. "We worked for the same partner at our first law firm. But he grew on me."
Kirk Pasich is a UCLA graduate, while Pam Woods graduated from Stanford. He went to Loyola Law School in Los Angeles; she went to Boalt Hall at Berkeley in the Bay Area. Yet the Pasich-Woods family has one important thing in common: UCLA Athletics, and more specifically, UCLA Women's Basketball.
Always interested in sports, Pam was born in San Francisco and favored Bay Area teams like the Giants and the 49ers. But she moved to Palos Verdes when she was in her early teens, going back to the Bay Area to attend college.
"I admit I'm still a Stanford fan," revealed Pam. "I root for Stanford for everything except women's basketball and now women's soccer—my niece is on the team. Basically I root for UCLA against everybody unless they're playing Stanford."
Kirk and Pam started bringing their children to games when they were quite young.
"Chris—our oldest—was the first to drink the proverbial Kool-Aid," Pam mused. "Kirk started taking him to UCLA men's games when he was six years old. By age eight he got to see the Bruins win a national championship!"
However, all three children remain staunch UCLA fans. Chris, who went on to graduate from Rice University in Houston, and now attends UCLA School of Law, still roots for the Bruins. Kelly, a recent Dartmouth graduate, goes to UCLA Women's basketball games and many of the men's games. Connor, their youngest, attends most men's basketball games with Kirk and most of the women's games, too.
Kirk is now a partner at Dickstein Shapiro, a law firm specializing in Insurance Coverage and Intellectual Property, among other specialties.
"I do insurance coverage work primarily," said Kirk. "This means I sue insurance companies on behalf of a wide range of clients, including Fortune 500 companies, major motion picture studios, record companies, actors, musicians, and athletes."
Pam taught at UCLA Law School for 13 years, teaching courses that were clinical in nature and more to do with the actual practice of law than theory.
"I knew what I was teaching them would be used every day when they started practicing law," Pam disclosed. "Sometimes one of my students would come back and tell me that they 'did this today at work' or "did that today at work' about things they learned in my class. That was really gratifying."
Besides practicing law, the Pasich-Woods own the Mystery Bookstore, a highly-regarded independent bookstore that has been located in Westwood for many years—although its presence is now online, rather than "brick and mortar." The Mystery Bookstore features book-signings, out-of-print books and signed first editions.
"We were regular customers of the Mystery Bookstore," Kirk explained. "When we heard the owners were going to sell it, we decided to buy it."
Even with their active professional and social lives, the Pasich-Woods family still has time to indulge in one of their favorite things: UCLA Women's Basketball.
"I contributed to other parts of UCLA over the years," Kirk declared. "We went to football and men's basketball games, then we started going to women's basketball games and that was really a turning point."
And what a turning point it was. The Pasich-Woods family not only established "The Kirk Pasich and Pamela Woods Endowed Women's Basketball Scholarship" in 1999, but they also established a second one in their children's names, "The Christopher, Kelly and Connor Pasich Endowed Women's Basketball Scholarship."
"We were happy we did it that way," Pam admits. "We wanted [our children] to feel like they had an ownership interest in the whole process. We were really fortunate to be able to do this financially, and we wanted them to understand that there are ways to help other people. These people have so much to give and you can help make it possible for them to receive a scholarship so they can give to the program."
"When we started going to the women's games we fell in love with the program," Kirk disclosed. "We've only missed maybe four or five games over these past 15 years."
"After our first game, we were both hooked," conveyed Pam. "We were so impressed with the caliber of young women on our team; the way they represented themselves and the school. If you're a regular [attendee] the girls knew who you were and they would appreciate you being there—if they saw you, you would get a hug and your kids would get a high-five."
"We enjoyed the games and they were fun and exciting but really the thing that impressed us most was just the character of the girls—that's why we felt that [program] was where we wanted to direct our support," Pam continued. "They work just as hard as the men's teams, and they don't get the same glory that the men get. They do it because they love the game and because that's how they're getting their education and they are really fully appreciative of that."
"Going to a UCLA Women's Basketball game is actually a great family outing," Pam emphasized. "It's inexpensive, you can get good seats, and the players are happy you're there!" Kirk adds, "The team is great, and, of course, it's just flat out fun and excellent basketball. A lot of that comes from the top, and we are excited for the debut of new Head Coach Cori Close this season."
In addition to their support of the Women's Basketball program, the Pasich-Woods have contributed to other areas of the university as well as contributing steadily to the Athletic Department support groups since 1987. In 2009, Kirk gave an extremely generous gift to the Pauley Pavilion Campaign of Champions Renovation project to name the new "Pasich Family Women's Locker Room," which should be completed in time for the 2012-13 basketball season.
"The Pauley Campaign gift was part wanting to give back and part wanting to continue to support the athletics department and women's basketball in particular," explained Kirk. "I thought it was important to do, and we didn't want to see opportunities like this pass by."
"I think the feeling is that as much as we love Pauley and the tradition and everything the way it is, we need to keep up with the times and other schools and the buildings and facilities are important considerations for recruiting and for getting the very best for our athletes."