CENTENNIAL CAMPAIGN
No other higher education institution has achieved, innovated or impacted the world more within its first 100 years. The headlines. The moments in history. The radical breakthroughs. As a world-class institution, UCLA has played a role in shaping the present world in every way. Now is the time to redefine our great public research institution. By maintaining our excellence through greater self-reliance, UCLA can be more than a place. It becomes a beacon.
IMAGINE WHAT'S POSSIBLE IN OUR NEXT CENTURY.
CENTENNIAL CAMPAIGN GOAL & PROGRESS
During UCLA's Centennial Campaign, UCLA Athletics must build a financially sustainable future. We will make key investments that will enable us to build upon our standing as the premier intercollegiate athletics program in the nation.
UCLA ATHLETICS' SIGNATURE OBJECTIVES
UCLA Athletics' goal for the Centennial Campaign is to raise resources for three key areas:
Unrestricted Support
Even with relatively predictable expenses, erratic revenues make fiscal management challenging. Increasing unrestricted support, through the Wooden Athletic Fund, will allow us to provide the necessary annual resources that our coaches and student-athletes need for success. Goal is to raise $105,000,000.
Program And Scholarship Support
A named, endowed coaching position to support a specific program aligns one's passions for competition in any sport with UCLA's legacy of, and commitment to, excellence in Athletics, while scholarship endowments will allow us to cover those scholarship expenses and further relieve unrestricted support. Goal is to raise $50,000,000.
Capital Support
Capital improvement gifts will allow UCLA Athletics to construct and renovate athletic facilities that will provide the necessary flexibility in supporting our students' academic and athletic activities. Goal is to raise $105,000,000.
Centennial Campaign Goal for UCLA Athletics:
$260,000,000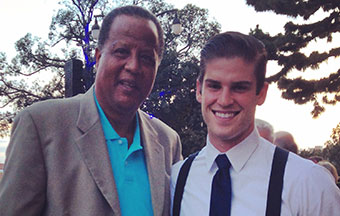 "I've been honored to have the privilege of being called a Bruin since I first stepped foot on campus in 2006. However, being a part of the Centennial Campaign was an honor far surpassing any I've ever had bestowed upon me. I am so passionate about UCLA and am excited for the continued impact UCLA will make on the world in these next 100 years."

-
Nick Ekbatani
For more information on UCLA Athletics role in the
UCLA Centennial Campaign please click here